---
Steve French has no answer for Klub Kool's height in C4P final
Klub Kool's Will Dumaresq outleaps Steve French's diminutive Denis Thébeau in yesterday's action at the Canada Games Centre (Photo: Steve Locke)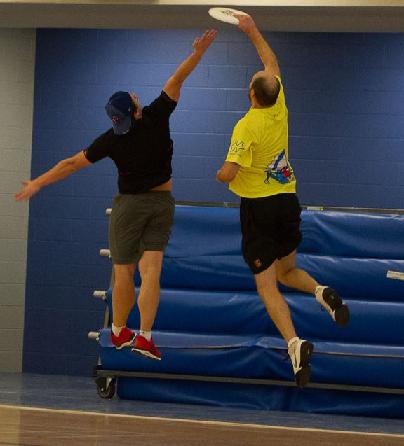 January 14, 2013
HALIFAX -- From examining the rosters before yesterday's C4P championship game held at Halifax's Canada Games Centre it was apparent it was going to be a bloodbath. Klub Kool's players -- with a median height of 6'5" -- simply towered over the Steve French squad, who measured just a paltry 5'3" on average.
The 37 spectators in attendance didn't have to wait long to get a glimpse of the strategy that Klub Kool would be using. They watched as over and over again Klub Kool would throw high floaty passes to absolute giants who were being covered by tiny Steve Frenchmen.
"At first I thought this game was going to be a lot closer," said Klub Kool superfan Scott Hansen. "But once I saw how things were going in the first half I realized that it was a lock for me to pick up a sweet 50 points in Klub Kool Pick 'em."
The carnage continued unabated throughout the game, with Klub Kool's men and women running in an uncontrolled fashion all over the court.
"At one point we were throwing discs up into the air just to see what would happen," said Klub Kool captain Stephen Creaser. "It was just like we drew it up -- and just that easy to play this game."
Steve French won the game 31-14 to capture the C4P championship for the third year in a row.