---
Nationals fields deemed unacceptable
March 12, 2006
CUPA representative Will Dumaresq inspects proposed ultimate nationals fields at Burnside on Saturday, March 11.

| | |
| --- | --- |
| | |
DARTMOUTH -- Will Dumaresq got his first look at one of the proposed sites for the 2006 Canadian Ultimate Championships (CUC) on Saturday. Dumaresq is the Atlantic representative on the Board of Directors of the Canadian Ultimate Players Association (CUPA), the body in charge of overseeing the championships.
This particular site is a new construction in the Burnside Industrial Park, and is just one of five proposed sites for CUC, which takes place August 17-20 in the greater Halifax area. The other sites are the Commons, the Mainland Commons, St. Mary's University, and Dalhousie University.
"First impressions [of the Burnside site]: confusion, shock, and dismay," said Dumaresq, minutes after stepping out of the helicopter which had flown him to Burnside from CUPA headquarters in Montréal.
Dumaresq admitted that there had been suggestions of the lack of quality of Halifax's fields on various discussion boards across the country -- people had described the fields as "rock-hard" and "devoid of plant life of any sort". But he had dismissed these rumblings in his own mind as being mostly wild speculation and uninformed gossip -- until now. "The field surface seems to consist of gravel and not-very-finely crushed rock. Ideally, ultimate is played on grass."
CUPA is expected to rule on site acceptability by early May. "I really can't imagine us sanctioning the play of our national tournament on these fields I see here today," said Dumaresq. A field rejection could result in the tournament being moved out of Halifax entirely.
Junior team hopeful Pepper Perkins gets a face full of crushed rock as he lays out for a point in Saturday's scrimmage.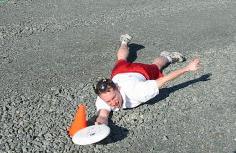 During the two-hour inspection Dumaresq had the opportunity to witness a scrimmage on the Burnside field between two Halifax junior teams, apparently an effort by local organizers to demonstrate the viability of the fields. "It was completely ridiculous," said Dumaresq. "I've never seen so many skinned knees, scraped elbows and just blood in general. I don't know what kind of coaching they are giving the junior players here, but the willingness of these kids to lay out on gravel is frightening."

The inspection and scrimmage came to an abrupt end after the arrival of city police, who ordered the participants to leave the site. "I really don't understand what that was all about, but I can guess that it's all just a part of the local attempt to cover up the shoddiness of their fields."

Inspections of the other sites have been scheduled for early next week.